We're Busy Writing Java Microservices!
Not currently accepting new clients.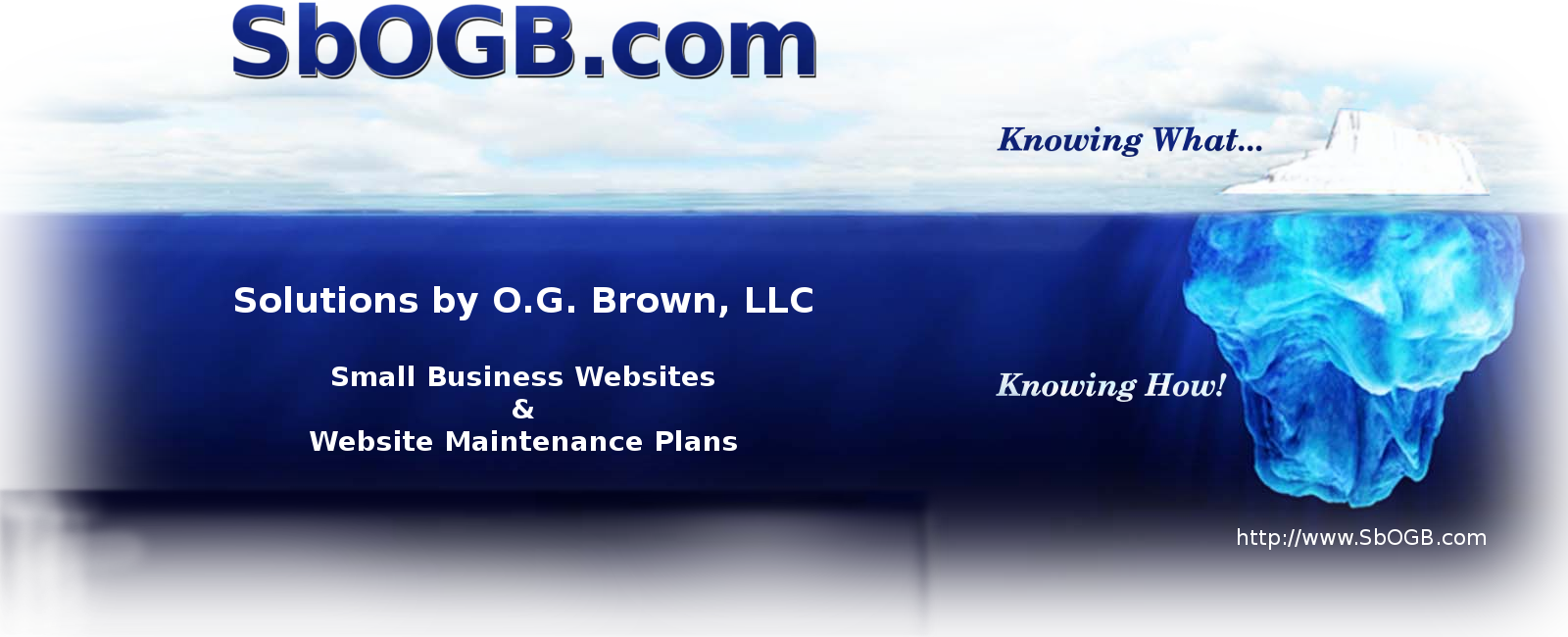 On-Going Services
Annual and 12 Month Services... Great service all year long!
Website Design Hours from hours to weeks on-going (e.g. on-going design, or on-going support request).
Website Design Hours from hours to weeks added to your maintenance plan (low prices and roll-over).
Website Hosting optimized for performance and completely managed for you. Just call us!

Are you a small business owner looking to grow your business using the web? Is your business needing to gather better information from your website visitors? Do you need your website to do more work for you by selecting the best customers for your business? Do you need help with your website without loosing control or ownership of your website? Is your business ready to track your web traffic and target your web updates to improve specific traffic metrics.
Solutions by O.G. Brown, LLC ("SbOGB") helps small businesses establish a highly useful web experience for their customers by combining your goals with today's web technologies to put your website to work for you.
Visitors are impressed with the consistent and professional results of the web based developments SbOGB creates with minimal time requirements. As a website builder we specialize in WordPress, PHP/MySQL based custom Websites, and can create custom applications using the robust power of Java, Spring MVC, and Hibernate ( i.e. Java based Website Applications with Database Storage) based on the needs of our customers. Crafting a custom design built from the ideas of our client's, or modifying an underlying Content Management System (CMS) engine, like WordPress for information sites and eCommerce sites, or full web application development using Java, we strive to provide the best development solutions.
There is much more beyond the building of a website. Internet marketing is vital to maintaining a high level of success online. Content development, content optimization (SEO) and social media all contribute to the development of an overall on-line presence. A variety of options are offered through our website solution walkthrough in order to shape and sustain a higher profile on the internet. Website design combined with a progressive and consistent site optimization campaign will lead to an overall positive user experience transforming visitors into satisfied customers.
Based in Frisco, TX and Plano, TX we understand the trials small companies face. Keeping your web presence up to date is tough to balance with the everyday challenges of operating a business and managing time effectively. With easy to manage web solutions for customers and employees we help our clients gain control of their time and run their business easier with our services.